2020 is here, and what could be a better start of a new year as some new gear on your truck. Better comfort, stronger protection, finer appearance. These are the main goals of installing accessories onto your vehicle. We give you an opportunity to learn which accessories can turn your truck into a beautiful beast. Check out our list of top 7 products for your truck to conquer any road in 2020.
Tonneau Covers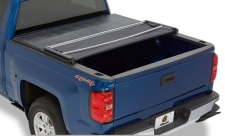 When it comes to protection addons for the truck, tonneau covers are designed to cover the load without breaking the vehicle's integrity. There are several types of tonneau covers. Our assortment can offer you the following categories of products.
Toolbox Tonneau Covers
The best option to equip a working truck. Get yourself a great, secure, and spacious place for tools. The toolbox tonneau cover is an incredibly affordable way to carry tools in a weatherproof removable case. Customize the truck's bed for your specific needs and let your rig to be an integral part of your business.
Folding Tonneau Covers
Aesthetic, easy to open, however, provide solid protection, folding tonneau covers are one of the best ways to protect the truck's bed. This model is designed to be lightweight, easy to open, and install. Our store provides variable custom solutions, particularly for your truck.
Hard Tonneau Covers
Strongly mounted and difficult to remove, yet provide high-class protection to everything you haul. Some models can be opened like a trunk or hinged from the side. Regardless of your chosen design, we can provide you with top-notch products that meet your needs.
Soft Tonneau Covers
The basic option for those who often hauls cargo. This model can be easily damaged if you will use it as a regular cover for the load. However, it is a perfect and low-priced way to protect the truck bed from rain or snow. Check out our massive selection of soft tonneau covers and choose the right model for yourself.
Hinged Tonneau Covers
Hinged tonneau covers surpass regular roll-up and soft models in meanings of protection and bed coverage. Hinged tonneau covers made of robust materials (e.g., plastic, fiberglass) and has a higher level of protection. More convenient design allows opening the cover only with one hand. If you are looking for such a product, feel free to check our wide selection of hinged tonneau covers.
Roll Up Tonneau Covers
This is a universal approach to truck bed protection. Roll-up design is easy in use, provides all-weather protection, and easy to mount (thanks to nylon straps and Velcro fasteners). The roll-up model is a great and affordable way to protect the truck bed. Shop for this product in our store!
Painted Tonneau Covers
Painted tonneau covers give you not only a good level of protection but a customizable truck appearance improvement. Please choose the color that complements your truck the most from our wide assortment of products.
Retractable Tonneau Covers
Retractable tonneau covers have a sophisticated and modern design. This model allows you to open the cover almost in any position or all the way if you need it. The retractable bed cover is great for regular and small freights, but it not suitable for something large. If you are interested in buying retractable tonneau covers, feel free to explore our extensive selection of goods.
Tonneau covers come in different shapes and materials. You can get the design that will perfectly complement a truck's appearance and have a perfect fit. Regardless of your choice, this piece will provide a strong layer of protection to a trunk and the hauled cargo.
In addition to exceptional protection, bed covers add a silky, smooth look and improve miles per gallon up to 2%.
Nerf Bars
Nerf bars are a vital part of any truck, especially when you have a lifted 4-wheeler. The product can have varying names as side steps, step bars, tube steps, etc. They allow you to get in and out of your truck easily, boosting comfort. Besides the cabin, you will have easy access to the truck bed. Regardless of the style, round or oval, nerf bars have non-slip, threaded pads (stepping surfaces) for better traction. They can be located under each door or have a cabin-wide design.
Also, nerf bars have a protective function. Road hides many dangers for your truck. Rocks, dirt, and road debris are some of those. Durable nerf bars will protect the truck body and paint job from scratches, unwanted dirt stains, or any other small road parts.
As for the looks, nerf bars improve the truck's appearance with stainless steel or polished chrome look. For those who are not fans of "shiny things," there are stylish black powder coating variants.
Nevertheless, step bars are a necessary thing to have when it comes to comfort and better protection of the truck. From classic looks to modern designs, the selection of models can satisfy any driver's desires.
Off-Road Bumpers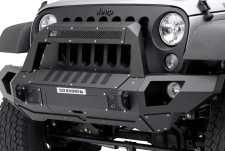 Any off-road adventure means hard routes, a lot of obstacles, and difficulties. Besides big wheels, good rubber, and lift kits, your truck requires reliable protection. An off-road bumper is a perfect choice for that.
Off-road bumpers are durable, can be equipped with special tools like a winch, and, to be honest, add aggressive style to your truck. A great front off-road bumper can complement the truck's appearance paired with large custom tires.
Stock bumpers are good, however, not good enough to handle off-road consistently. An off-road model has a more durable and resistible design in comparison to stock bumpers. You are trying to conquer the locality, not fancy city roads, right? Thus you will need a strong front and rear protection from any possible situation on the off-road.
Design and used materials make this piece the best protector for your vehicle. You can be sure that you won't lose any functionality as most bumpers accommodate with rig's systems (lighting, sensors, etc.) It is a win-win situation. You strengthen the truck's protection and don't give up any of the rig's features.
Nothing tells more about protection as a good bumper. Off-road bumper will be the most suitable choice for your truck. Whether it is a polished chrome piece or with a black powder coating, the off-road bumper provides superior protection for every truck. Check out our assortment of off-road bumpers and conquer any road with a fine bumper.
Headlights
Proper lighting is key to road safety. Whether it is a night road, fog, rain, or snow. When your headlights wear off, the light becomes yellowish and dull. It is caused by plastic lenses deterioration because of the years and covered miles. Also, road debris, sunlight, and elements are badly affecting the plastic. Damaged plastic causes the light to be tarnished, and roads become more dangerous for you. There are products that claim to restore the lenses, but their effect is not everlasting if there will be any effect. So the best solution that will give you peace of mind is to purchase brand new headlights.
If you are looking for strong custom design, try halo headlights, also known as angel eyes. They provide excellent visual and lighting improvements to your ride. This design offers a wide range of custom lighting solutions, including colorful models with plug-and-play control. Mostly Bluetooth, so you can set any color through your smartphone or tablet. Halo headlight primarily used on European vehicles, but we can provide you with a piece for any truck model.
If you are not a fan of fancy looks and prefer a classic style, then LED headlights will be your perfect pick. Classic LED headlights come in different styles so you can choose prime lighting along with sleek and complementing design.
When looking for new headlights, you surely can go to your truck dealer facility and replace them with the same model, however not all stock headlights can satisfy driver's needs. Numerous aftermarket headlights offer a more extensive range of lighting solutions as well as different designs to complement your vehicle's appearance.
Mud Guards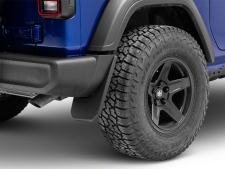 Trucks are made for the countryside and off-road rides. Dirt, rocks, and other road debris tossed by tires cause scratches, chipped paint, and other cosmetic defects to appear. A strong hit by a rock could become a rust hole if the paint notched down to the metal. You don't want to pay for a new paint job, better get a pair of good mud guards. They are cheaper than mechanics work and easy to install.
In addition to your truck protection, mud guards protect your trailer and other vehicles on the road. If you haul your boat or camper, you don't want it to be covered in dirt or get hit by rocks. As well as you don't want to damage other people's property. Hitch-mounted (towing) mud flaps are a great protective solution. Many models in our stock provide a broad line of protection by covering most of the tire tread area.
What material is better to choose from? You decide. All of them are good, whether it is a rubber, thermoplastic, or steel. Regardless of the material, each model is designed to reject road grime and keep your truck clean.
Big truck means big wheels and treaded tires. The bigger the tires, the more dirt, and rocks they hurl onto the truck. Don't let your beauty be damaged and add some fine mud flaps so they will take the beating instead. Moreover, mud guards complement the truck's appearance and improve the rugged look.
Bug Deflectors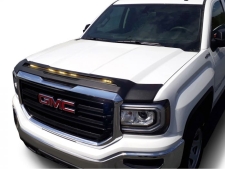 The bugs, you don't need them on your windshield and hood. Dead bugs on the truck's front are not just nasty, the acid in their bodies destroys paint, and you surely don't want that. As a preparation for 2020's warmth and the bug bacchanalia that comes with it, installing a suitable bug deflector will save you some peace of mind and money for a new paint job.
How do bug deflectors work? Simple design with a lifted lip that channels the airflow along with bugs and small road debris up and over the truck. The hood and the windshield stay clean and undamaged.
Like many other truck accessories, bug deflectors come in different shapes and makes. Acrylic, plastic, steel so you can choose the material that will complement your rig the most. Saying that bug deflectors add a stylish touch to your rig, regardless of the material.
Truck Bed Extender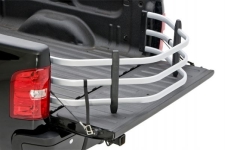 This product rarely comes to mind of newbie truck owners. Truck bed extender, based on its name, makes the load-hauling area larger. If you are planning to haul some oversized loads, this extension will become pretty handy. As bed extenders have a variety of forms and designs, you can choose the right piece to fit your truck and cargo.
There are different types of truck bed extenders. Most of the models mount to bedsides and are good for hauling freights that a little longer than a bed itself. If the cargo is really long (pipes, lumber, ladders, etc.), there are truck bed extenders that mount on the hitch. Such extenders add more than 30" of length and can carry up to 1000 lbs.
Truck bed extenders create a secured and enclosed space for the cargo. Don't try to haul the cargo when it sticks out of the truck. It is dangerous for the cargo and for those who follow you on the road. Stick around one of these rugged tailgate extenders and carry your loads with safety.
All these accessories you can purchase in our store. We provide a wide selection of products to improve your truck's characteristics, performance, and appearance. Feel free to browse our extensive assortment of goods to prepare your rig for the 2020's challenges.