APS 5" iStep Running Boards
Select Your Vehicle
Original Price:

$289.00 - $479.00

Our Price: $182.50 - $320.00

Shipping:

Free Shipping

Availability:

Ships in 1 day
Many car lovers prefer the APS 5" iStep Running Boards over the 4" and 6" versions. It straddles the line between slim functionality and rugged styling. The generous 5" full length steps offers maximum grip for safer ingress and egress, even if your shoes or work boots are soaked in mud or dirt.
Aluminum hairline construction
5" full length secure step pads
Solid one-piece construction
Easy to install with no drilling, cutting, or bending
The APS 5" iStep Running Boards are primed and ready for action. The aluminum hairline finish will complement the rugged looks of your truck, SUV, or crossover. The solid one-piece construction will ensure strength and rigidity for extreme off-road use.
About APS
APS is the country's number one manufacturer of the most stylish and high quality grilles. Based in Ontaria, CA, USA, APS has gained recognition in the automotive aftermarket industry for providing excellent support to their distributors and more importantly for producing top products that gain customer satisfaction. APS have the widest vehicle coverage on grilles, including the newest makes and models from leading auto makers.
APS has made shopping for grilles really easy for customers by offering a wide-range of innovative styles that will suit each customer's styling needs. They carry the best selection of Aluminum Billet Grilles, Stainless Billet Grilles, EZ Wire Mesh Grilles, Stainless Steel Mesh Grilles, Universal Mesh Grilles, Rivet Wire Mesh Grilles, CNC Machine Perimeter Grille, Symbolic Grille, and Tubular Grilles at affordable prices. Obviously, APS is the number one authority on the best and affordable grilles in the market.
Though they are the most trusted Grille experts, APS followed their grilles with bull bars, chrome accessories, bull bars, fender flairs, fender trims, tonneau covers, running boards, nerf bars, door mirrors, and hitch receivers to meet the demands of their distributors and customers. All of APS parts are manufactured in their ISO-9001 certified factory using state-of-the-art equipment and the most astringent testing methods that each APS grille or any part will roll out excellence in style and quality.
About APS 5" iStep Running Boards is available for the following vehicles:
2002-2010 Acura MDX
2008-2009 Buick Enclave
2001-2017 Cadillac Escalade
2002-2013 Cadillac Escalade EXT
2002-2013 Chevrolet Avalanche
1992-1994 Chevrolet Blazer
1988-1998 Chevrolet C/K Truck
2004-2021 Chevrolet Colorado
2005-2017 Chevrolet Equinox
2003-2021 Chevrolet Express
1999-2021 Chevrolet Silverado
2000-2020 Chevrolet Suburban
1995-2020 Chevrolet Tahoe
2002-2009 Chevrolet Trailblazer
2009-2020 Chevrolet Traverse
2007-2009 Chrysler Aspen
2011-2016 Chrysler Town & Country
2000-2011 Dodge Dakota
1998-2021 Dodge Durango
2011-2019 Dodge Grand Caravan
2009-2019 Dodge Journey
2007-2011 Dodge Nitro
2014-2021 Dodge ProMaster
1994-2021 Dodge Ram
2007-2009 Dodge Sprinter
1980-1996 Ford Bronco
1999-2014 Ford E-Series
2007-2014 Ford Edge
2001-2019 Ford Escape
2003-2021 Ford Expedition
2002-2021 Ford Explorer
2001-2010 Ford Explorer Sport Trac
1980-2021 Ford F-150
2004-2004 Ford F-150 Heritage
1997-1999 Ford F-250
1999-2021 Ford F-250 Super Duty
1999-2021 Ford F-350 Super Duty
1999-2021 Ford F-450 Super Duty
1999-2020 Ford F-550 Super Duty
1998-2021 Ford Ranger
2015-2021 Ford Transit
2007-2009 Freightliner Sprinter
2007-2020 GMC Acadia
1988-1998 GMC C/K Truck
2004-2021 GMC Canyon
2002-2009 GMC Envoy
2003-2021 GMC Savana
1999-2021 GMC Sierra
2010-2017 GMC Terrain
1992-2020 GMC Yukon
2000-2020 GMC Yukon XL
2002-2021 Honda CR-V
2003-2011 Honda Element
2015-2017 Honda Odyssey
2003-2021 Honda Pilot
2006-2014 Honda Ridgeline
2005-2009 Hyundai Tucson
2014-2016 Infiniti QX60
1984-2000 Jeep Cherokee
2006-2010 Jeep Commander
2020-2021 Jeep Gladiator
1999-2021 Jeep Grand Cherokee
2002-2012 Jeep Liberty
2007-2017 Jeep Patriot
1987-2021 Jeep Wrangler
2003-2019 Kia Sorento
2004-2016 Kia Sportage
2001-2009 Lexus RX Models
2007-2010 Lincoln MKX
1998-2009 Mazda B-Series
2008-2011 Mazda Tribute
1998-2014 Mercedes-Benz M Class
2016-2021 Mercedes-Benz Metris
2010-2021 Mercedes-Benz Sprinter
2008-2010 Mercury Mariner
1999-2003 Mitsubishi Montero
2004-2015 Nissan Armada
1999-2019 Nissan Frontier
2012-2021 Nissan NV Cargo
2000-2020 Nissan Pathfinder
2014-2020 Nissan Rogue
2004-2021 Nissan Titan
2016-2021 Nissan Titan XD
2005-2015 Nissan Xterra
2007-2010 Saturn Outlook
2009-2012 Suzuki Equator
2003-2021 Toyota 4Runner
2007-2014 Toyota FJ Cruiser
2001-2019 Toyota Highlander
2006-2018 Toyota RAV4
2011-2020 Toyota Sienna
1995-2021 Toyota Tacoma
2000-2021 Toyota Tundra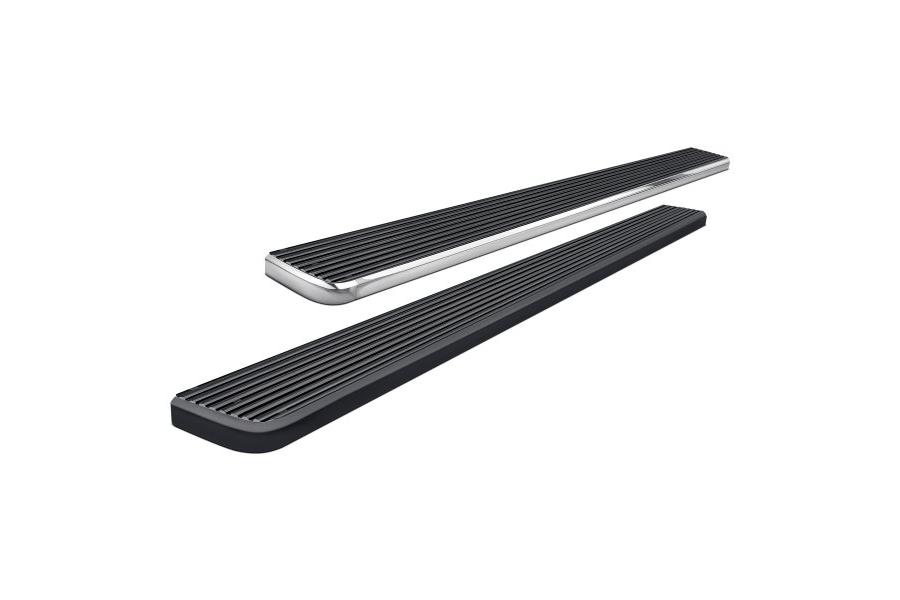 APS 5" iStep Running Boards
2 Customer Reviews
5 Star

5 (50%)

4 Star

4 (50%)

3 Star

0 (0%)

2 Star

0 (0%)

1 Star

0 (0%)